Troubleshooting Procedures and Techniques for Cummins B Series Engine, 6BT5.9-C130

EQB210-20
EQB190-20
EQB180-20
EQB160-20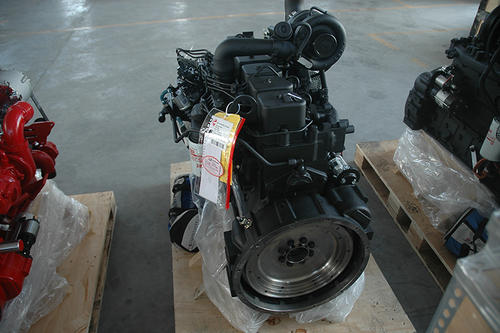 The Troubleshooting Symptom Charts are organized so that a problem can be found and corrected by doing the easiest and most logical things first. Follow all steps in the sequence shown from top to bottom.
These charts are designed to stimulate a thought process that will lead to the cause and correction of the problem.
Follow these basic troubleshooting steps.
Get all the facts concerning the complaint.
Analyze the problem thoroughly.
Relate the symptoms to the basic engine systems and components.
Consider any recent maintenance or repair action that can relate to the complaint.
Double-check before beginning any disassembly.
Solve the problem by using the symptom charts and doing the easiest things first.
Determine the cause of the problem and make a thorough repair.
After repairs have been made, operate the engine to make sure the cause of the complaint has been corrected.
Excessive Black Smoke
1) Engine is being lugged down (Use lower gear ).
2) Load is excessive (Reduce the load. Check and clean the vessel bottom,or change the propeller. Refer to manufacturer's instructions).
3) Plugged air filter (Inspect the air cleaner element. Replace as needed ).
4) AFC plunger not fully open (Inspect AFC air tube and fuel drain lines for restriction. Inspect the AFC operation).
5) Intake air source is incorrect (If the vehicle is equipped with a valve to switch the intake source from under the hood to outside, position and set valve for the season)
6) Aftercooler restricted (if equipped) (Inspect for plugged passages in the aftercooler ).
7) Exhaust system restriction (Check the exhaust system for any restrictions).
8) Charge air cooler is restricted or leaking (Inspect the charge air cooler for air restrictions or leaks).
9) Air leak between the turbocharger and the intake manifold(Check for leaks in the air crossover tube, charge air cooler connections, hoses, or through holes in the manifold cover and repair or replace if necessary)
10) Exhaust leaks at the manifold or turbocharger(Check and correct any leaks in the exhaust manifold or turbocharger gaskets. Check for a cracked exhaust manifold)
11) Turbocharger wastegate is malfunctioning(Check the wastegate for correct operation)
12) Turbocharger is worn or malfunctioning(Check for the specified boost pressure. Inspect the turbocharger. Replace if necessary)
13) Fuel contaminated(Verify by operating the engine with clean fuel from a temporary tank).
14) Injectors worn or malfunctioning(Remove and test the injectors. Replace as necessary.
15) Injector sealing washer not correct(Check to see if an extra sealing washer is installed under injector. Remove any additional sealing washer )
16) Injector sealing washer not correct(Remove injector and install the proper sealing washer)
17) Fuel injection pump timing is not correct(Put the engine at top dead center. Check and adjust the fuel timing)
18) Fuel injection pump is malfunctioning(Remove the fuel injection pump. Check the calibration of the fuel injection pump)
19) Piston rings not sealing (blue smoke)(Check for excessive blowby)

Excessive White Smoke
1) Starting procedure is not correct (Verify the correct starting procedure)
2) Coolant temperature is below specification or the intake manifold air temperature is below specification(Refer to the Coolant Temperature Below Normal symptom tree)
3) Intake manifold heater wiring harness malfunctioning(Check the wiring harness)
4) Poor fuel quality or wrong fuel grade(Verify by operating the engine from a temporary supply of number 2 diesel fuel. Check fuel specifications for proper fuel grade)
5) Fuel injection pump timing is not correct(Put the engine at top dead center. Check and adjust the fuel timing)
6) Injector sealing washer not correct(Remove injector and install the proper sealing washer )
7) Injector sealing washer not correct(Remove injector and install the proper sealing washer )
8) Injectors worn or malfunctioning(Remove and test the injectors. Replace as necessary)
9) Coolant is leaking into the combustion chamber (Refer to the Coolant Loss - Internal symptom tree)
10) Fuel injection pump is malfunctioning(Remove the fuel injection pump. Check the calibration of the fuel injection pump)
Excessive Crankcase Gases (Blowby)
1) Air compressor is malfunctioning (Isolate the air compressor by disconnecting the air inlet and outlet lines. Check blowby. If blowby is within specifications, rebuild or replace the air compressor)
2) Cylinder head valve guides are excessively worn(Check the valve guides for wear. Replace the cylinder head if necessary.)
3) Pistons or piston rings are worn, damaged, or not correct(Check the pistons for correct part numbers Check the pistons and rings for wear and damage.)
4) Turbocharger oil seal is leaking(Check the turbocharger compressor and turbine seals.)
Fuel Knock
1) Starting aid is necessary for cold weather or starting aid is malfunctioning(Check for the correct operation of the starting aid.)
2) Coolant temperature is above specification(Refer to the Coolant Temperature Above Normal - Gradual Overheat symptom tree.)
3) Air in the fuel system(Bleed the fuel system and check for suction leaks.)
4) Poor fuel quality or wrong fuel grade(Verify by operating the engine from a temporary supply of number 2 diesel fuel. Check fuel specifications for proper fuel grade.)
5) Engine under excessive load(Check for added loading from malfunctioning accessories or other engine-driven units, brakes dragging, or other changes in vehicle loading. Disengage engine-driven units.)
6) Injectors worn or malfunctioning(Remove and test the injectors. Replace as necessary.)
7) Fuel injection pump timing is not correct(Put the engine at top dead center. Check and adjust the fuel timing.)
Engine Speed Surges at Low or High Idle
1) Fuel level is low in the tank(Fill the supply tank.)
2) Engine under excessive load(Check for added loading from malfunctioning accessories or other engine-driven units, brakes dragging, or other changes in vehicle loading. Disengage engine-driven units.)
3) Throttle linkage misadjusted or damaged(Adjust or repair the linkage. Refer to the OEM service manual.)
4) Idle speed is set too low for accessories(Check and adjust the low-idle screw.)Fuel leak(Check the fuel lines, fuel connections, fuel delivery valve seals, and fuel filters for leaks. Check the fuel lines from the supply tank(s).)
5) Fuel filter or fuel inlet restriction(Check the flow through the fuel filter. Replace the fuel filter if necessary. Clean all prefilters and screens. Check the fuel suction line for restriction.)
6) Air in the fuel system(Bleed the fuel system and check for suction leaks.)Injectors worn or malfunctioning(Check the injectors and replace any malfunctioning injectors.)
7) Fuel injection pump is malfunctioning(Remove the fuel injection pump. Check the calibration of the fuel injection pump.)

Engine Acceleration or Response Poor
1) Interview the operator to verify the complaint.
2) Operator technique is not correct(Explain correct engine operation to the operator.)
3) Fuel level is low in the tank(Fill the supply tank.)
4) Fuel inlet restriction(Check for fuel inlet restriction. )
5) Fuel grade is not correct for the application or the fuel quality is poor(Operate the engine from a tank of high-quality fuel.)
6) Fuel inlet temperature to pump is above specification(Fill the fuel tank, turn off or bypass the fuel heaters, and check the fuel cooler.)
7) Air intake system restriction(Check the air intake system for restriction.)
8) Drivetrain is not correctly matched to the engine(Check for correct gearing and drivetrain components.)
9) Vessel is malfunctioning or parasitics are excessive(Check the vessel bottom, propeller, transmission, and driven accessories. Refer to the manufacturer's instructions.)
10) Clutch is malfunctioning or is not correct(Compare the drivetrain specifications to Cummins recommendations. Check the clutch for correct operation. Refer to the OEM service manual.)
11) Vehicle parasitics are excessive(Check the vehicle brakes for dragging, transmission malfunction, cooling fan operation cycle time, and engine-driven units. Refer to the OEM service manual.)
12) Propeller damaged or not at the correct pitch(Inspect or replace propeller. Refer to the manufacturer's instructions.)
13) Fuel leak(Check the fuel lines, fuel connections, and fuel filters for leaks. Check the fuel lines to the supply tanks. Refer to the OEM service manual.)
14) Fuel transfer pump is malfunctioning(Check the fuel lift pump for correct operation. Check the pump output pressure. Replace the fuel lift pump if necessary.)
15) Fuel pump overflow valve is malfunctioning(Check the overflow valve.)
16) Air in the fuel system(Check for air in the fuel system. Vent air from the system.)
17) Charge air cooler is restricted or leaking(Inspect the charge air cooler for air restrictions or leaks.)
18) Aftercooler is restricted(Check the aftercooler for restriction.)
19) Air intake or exhaust leaks(Inspect the air intake and exhaust systems for air leaks.)
20) Turbocharger is not correct(Check the turbocharger part number Replace the turbocharger if necessary.)
21) Turbocharger wastegate is malfunctioning (Check the wastegate for correct operation.)
22) Exhaust brake adjustment is not correct(Check the exhaust brake adjustment.)
23) Exhaust system restriction is not within specification(Check the exhaust system for restrictions.)
24) Turbocharger wheel clearance is out of specification(Check the radial bearing clearance and axial clearance. Inspect the turbocharger. Repair or replace the turbocharger if necessary.)
25) Overhead adjustments are not correct(Measure and adjust the overhead settings.)
26) Injectors are not correct( Replace the injectors if necessary.)
27) Injector is malfunctioning(Inspect the injectors. Replace the injectors as necessary.)
28) Fuel supply line restriction between the fuel pump and the injectors(Check the fuel supply line from the fuel pump to the cylinder head for sharp bends that can cause restrictions.)
29) Fuel injection pump timing is not correct(Put the engine at top dead center. Check and adjust the fuel timing.)
30) Fuel injection pump is malfunctioning(Remove and test the fuel injection pump. Replace the pump if necessary.)
31) Internal engine damage(Analyze the oil and inspect the filters to locate an area of probable damage.)

Engine Starts But Will Not Keep Running

1) Fuel level is low in the tank(Fill the supply tank. Refer to the OEM service manual.)
2) Engine under excessive load(Check for added loading from malfunctioning accessories or other engine-driven units, brakes dragging, or other changes in vehicle loading. Disengage engine-driven units.)
3) Fuel shutoff valve malfunctioning(Inspect the fuel shutoff valve (FSOV) hold coil resistance and supply voltage.)
4) Idle speed is set too low for accessories(Check and adjust the low-idle screw. Refer to the OEM service manual.)
5) Air in the fuel system(Bleed the fuel system and check for suction leaks.)
6) Fuel filter or fuel inlet restriction(Check the flow through the fuel filter. Replace the fuel filter if necessary. Clean all prefilters and screens. Check the fuel suction line for restriction.)
7) Fuel is waxing due to cold weather(Check the fuel heater, if installed. Weather conditions sometimes require a fuel heater.)
8) Excessive water in the fuel filter(Drain the fuel water separator and replace the fuel filter.)
9) Fuel contaminated(Verify by operating the engine with clean fuel from a temporary tank.)
10) Fuel drain line is restricted(Check the fuel drain lines for restriction. Clear or replace the fuel lines, check valves, or tank vents as necessary.)
11) Intake and exhaust system restricted(Check the intake and exhaust systems for restrictions. Inspect the intake air filter and replace as necessary.)

Engine Difficult to Start or Will Not Start (No Exhaust Smoke)
1) Starting procedure is not correct(Verify the correct starting procedure.)
2) No fuel in supply tank(Check and replenish fuel supply. Check fittings and hose connections and hose conditions.)
3) Fuel shutoff valve is malfunctioning(Check for loose wires and verify that the fuel shutoff valve is functioning. Check to be sure manual shutoff lever is in the run position.)
4) Fuel transfer pump malfunctioning(Inspect the fuel transfer pump. Replace if necessary.)
5) Fuel filter or fuel inlet restriction(Check the flow through the fuel filter. Replace the fuel filter if necessary. Clean all prefilters and screens. Check the fuel suction line for restriction.)
6) Excessive water in the fuel filter(Drain the fuel water separator and replace the fuel filter.)
7) Intake and exhaust system restricted(Check the intake and exhaust systems for restrictions. Inspect the intake air filter and replace as necessary.)
8) Fuel injection pump not getting fuel or air in fuel(Check fuel flow or bleed fuel system.)
9) Fuel return restriction excessive(Inspect the fuel return lines for restrictions.)
10) Fuel pump return overflow valve is malfunctioning(Inspect the return overflow valve. Replace if necessary.)
11) Fuel injection pump timing is not correct(Put the engine at top dead center. Check and adjust the fuel timing.)
12) Fuel injection pump is malfunctioning(Remove the fuel injection pump. Check the calibration of the fuel injection pump.)
13) Camshaft timing is not correct after engine rebuild or repair(Check the gear train timing alignment.)